Program:
Weber: Oberon, Overture
Beethoven: Symphony. No. 1
Debussy: Prelude to the Afternoon of a Faun
Tchaikovsky: Symphony No. 6

Conductors are expected to purchase and study their scores before the start of the masterclass. It is important that you listen to the pieces and prepare them as much as possible to gain the maximum benefits from the masterclass.
Participants are required to select and prepare 3 music works from this repertoire.
Schedule:
Sunday, May 14
14.00 – 20.00 - four-hand piano sessions
Monday, May 15
10.00 - 13.00 - rehearsal with the orchestra
14.00 -19.00 - four-hand piano session
Tuesday, May 16
9.30 – 12.30 – rehearsal with the orchestra
14.30-17.30 – rehearsal with the orchestra
Wednesday, May 17
9.00 – 13.00 – rehearsal with the orchestra
15.00 -19.00 - four-hand piano session (reserve)
Thursday, May 18
9.00 – 13.00 – rehearsal with the orchestra
14.30-16.30 – video analysis session
Analysis of orchestral conducting
Friday, May 19
10.00 - Dress rehearsal
19.00 – Final concert
Each Active participant will be entitled to:
•
a minimum of 90 minutes
podium time conducting
Moravian Philharmonic Orchestra

•
60 minutes
of podium time in four hand piano sessions
• conduct a Dress rehearsal and the Final concert
• attending all meetings, classes and rehearsals
Each Semi-active participant will be entitled to:
•
90 minutes
of podium time in four hand piano sessions
Special offer! Please contact the Course Manager to get more info! • attending all meetings, video analysis session, classes, rehearsals and the final concert, without an opportunity to conduct the orchestra
There is no age limit for participation.
The Certificate of participation will be provided for all Participants who have completed the masterclass for conductors.

Concert
The concert program will be divided among participants.
The final concert
will be held on
19th of May 2023 at 7 pm.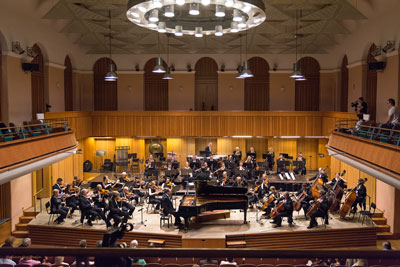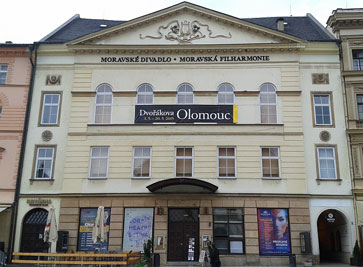 Accommodation
Accommodation costs must be covered by each participant.
Recording
All sessions with the orchestra will be video recorded and each conductor will receive his/her videos via E-mail / transfer link
Video recording of orchestra rehearsals and the concert is included in the price.
By your request, we can order also multi-angle video recording at the final concert.
Masterclass fees
Please,
contact the Course Manager for active participant's fee.
Semi-active
participant's fee is € 600
Daily Visitors'
fee is
€ 40
There is no registration/application fee.
Payment schedule
- 25 % of the participant's fee has to be paid as a deposit via bank transfer two weeks at the latest after the organizers` confirmation of your participation;
- The payment deadline for the full participation fee is 30 days prior to beginning of the course.
The masterclass fee is 100 % refundable only in case of cancellation or postponing of the masterclass by the organizer.
For an individual payment plan or more options, please
contact the Course Manager

Language
The masterclass/course will be taught in
English
.
Location
Venue of the masterclass: Reduta Concert Hall, Horní náměstí 23, Olomouc
The course will take place in the concert hall Reduta. Venue address: Horní náměstí 23,
Olomouc

, Czech Republic. The town is located between Prague and Vienna.
| | | |
| --- | --- | --- |
| | | Historical place: the famous composer and conductor Gustav Mahler worked at the German Public Theater (now the Moravian Theatre in Olomouc) |
Click here to see more about Olomouc.


MAESTRO
Based in the Czech Republic since 2007,

Maestro Alim Shakh

is the lead tutor of the International Conducting Masterclasses.
Alim Shakh was taught by famous conductors and teachers - Fyodor Kozlov (1927–2003) and Ilya Musin (1904–1999), he maintains and spreads traditions of St. Petersburg Rimsky-Korsakov State Conservatory. Alim Shakh is the last of Prof. Musin's students, who get knowledge from first hands.
His outstanding conducting technique lets Maestro conduct the most difficult pieces of the classical and modern music. Talented works of distinguished modern composers have been marvelously interpreted by the conductor, so it is no mere chance that Shakh is held in esteem.
Alim Shakh is a prominent conductor, he worked with orchestras in Prague (Rudolfinum), Weimar, Paris, Linz (Brucknerhaus), St.Petersburg, London (Royal Albert Hall). Maestro conducted International Symphonic Orchestra in Great Britain, Weimar Chapel Orchestra (Germany), Chamber choir Grand Rapids (USA), Californian opera theatre (USA), Prague Symphony Orchestra, la Orquesta Sinfónica Nacional Costa Rica, Slovak State Philharmonic, Philharmonie de Paris, Moravian Philharmonic Orchestra, the Saint Petersburg Philharmonic Orchestra and many others. In 2001, Alim won the award "Artists Public Recognition" in California, the USA, for "Carmen" by Bizet.

Read more about Maestro Alim Shakh


ORCHESTRA
MORAVIAN PHILHARMONIC ORCHESTRA
You can read more about the orchestra
here
.The website of the MFO is www.mfo.cz

Masterclasses for conductors with a full-size orchestra.
Conducting Programs
include Opera & Orchestral
Conducting masterclasses and workshops
,
Masterclass
venues & locations: Prague, Olomouc, České Budějovice, Marienbad, Karlovy Vary, Budweis