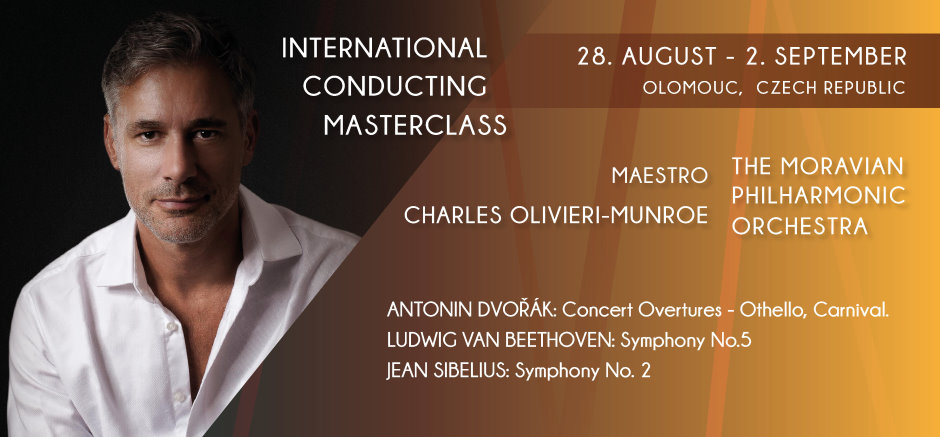 August 28 - September 2, 2022. Olomouc, Czech Republic
Charles Olivieri-Munroe & Moravian Philharmonic Orchestra. Conducting Course 2022
Orchestral conducting masterclass with
Maestro Charles Olivieri-Munroe

and
Moravian Philharmonic Orchestra

Program:
Antonin Dvorak: Concert Overtures In Nature's Realm & Carnival
Ludwig van Beethoven: Symphony No.5
Jean Sibelius: Symphony No. 2

Conductors are expected to purchase and study their scores before the start of the masterclass. It is important that you listen to the pieces and prepare them as much as possible to gain the maximum benefits from the masterclass.
Participants are required to select and prepare 3 music works from this repertoire.
Each Active participant will be entitled to:
•
a minimum of 90 minutes
podium time conducting
Moravian Philharmonic Orchestra

•
60 minutes
of podium time in four hand piano sessions
• each Active participant will conduct a Dress rehearsal and the Final concert
• attending all meetings, classes and rehearsals
Each Semi-active participant will be entitled to:
•
90 minutes
of podium time in four hand piano sessions
• attending all meetings, classes, rehearsals and the final concert, without an opportunity to conduct the orchestra
Listeners are welcome!
Online sessions will be available for passive participants.
The application deadline is on 1st of July 2022.
There is no age limit for participation.
The Certificate of participation will be provided for all Participants who have completed the masterclass for conductors.

Concert
The concert program will be divided among participants.
The final concert
will be held on
2nd September 2022 at 7 pm.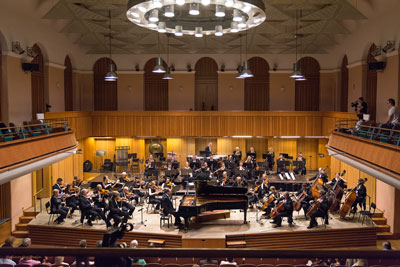 Accommodation
Accommodation costs must be covered by each participant.
Please, write to masterclass manager for booking the hotel Flora with a special price of 1100 CZK for single accommodation with breakfast.
Recording
All sessions with the orchestra will be video recorded and each conductor will receive his/her videos via E-mail / transfer link
Video recording of orchestra rehearsals and the concert is included in the price.
By your request, we can order also multi-angle video recording at the final concert.
Masterclass fees
Active
participant's fee is
€ 1900.
Semi-active
participant's fee is
€ 600
Daily Visitors'
(passive participation) fee is
€ 35
There is no registration/application fee.
Payment schedule
- 25 % of the participant's fee has to be paid as a deposit via bank transfer two weeks at the latest after the organizers` confirmation of your participation;
- The payment deadline for the full participation fee is 30 days prior to beginning of the course.
The masterclass fee is 100 % refundable only in case of cancellation or postponing of the masterclass by the organizer.
For an individual payment plan or more options, please
contact the Course Manager

Language
The masterclass/course will be taught in
English
.
Transportation & Accommodation
Venue of the masterclass: Reduta Concert Hall, Horní náměstí 23, Olomouc
Charles Olivieri Munroe
Charles Olivieri Munroe

is the artistic director & principal conductor of the Cracow Philharmonic Orchestra (since 2015). He is concurrently chief conductor with Philharmonie Südwestfalen in Germany since 2011 and holds the position of honorary chief conductor with the North Czech Philharmonic Orchestra with whom he has been associated since 1997, Regular Guest conductor with Bangkok Symphonic Orchestra and Moscow Philharmonic Orchestra, Docent conducting faculty in the Academy of Performing Arts in Prague. Charles Olivieri-Munroe regularly appears with major orchestras throughout the world including the Israel Philharmonic, Montreal Symphony Orchestra, Toronto Symphony Orchestra, New World Symphony, Kyoto Symphony Orchestra Sydney Symphony Orchestra, Berlin Deutsches Symphonie-Orchester, St. Petersburg Philharmonic, National Philharmonic of Russia, Munich Symphony Orchestra, Stuttgart Philharmonic, Danish Radio Symphony, Czech Philharmonic, Budapest Symphony Orchestra, Warsaw Philharmonic, Royal Brussels Philharmonic, and many others. Since 2005, he has been Resident Conductor with the Texas Round Top Festival Institute.



Read more about Maestro Olivieri Munroe

Personal website: https://www.olivieri-munroe.com


Additional information: google presentation

venues & locations: Prague, Olomouc, České Budějovice, Marienbad, Karlovy Vary, Budweis