Maestro Alim Shakh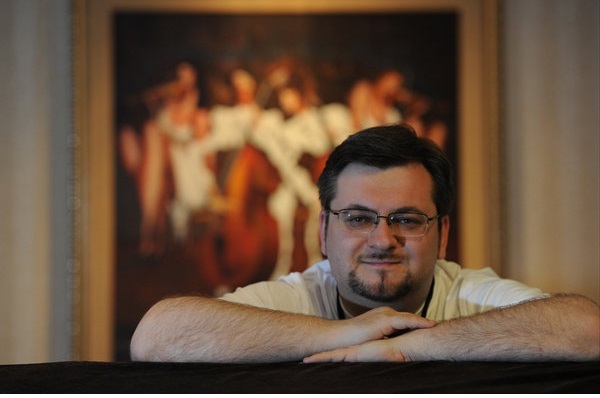 • Alim Shakh held the position of Principal conductor of the Novosibirsk Philharmonic Chamber Orchestra (the top chamber orchestra in Russia) (2008- 2022).
• Principal conductor of St. Petersburg State Conservatory Opera and Ballet Theatre (2012- 2020).
• Head of Mediacentre of St. Petersburg State Rimsky-Korsakov Conservatory (until 2020)
• Based in the Czech Republic since 2008, Maestro Shakh is the lead tutor of the International Conducting Masterclasses.
Alim Shakh was taught by famous Russian conductors and teachers - Fyodor Kozlov (1927–2003) and Ilya Musin (1904–1999), he maintains and spreads traditions of St. Petersburg Rimsky-Korsakov State Conservatory. Alim Shakh is the last of Prof. Musin's students, who get knowledge from first hands. In 2001, Alim won the award "Artists Public Recognition" in California, the USA, for "Carmen" by Bizet. His outstanding conducting technique lets Maestro conduct the most difficult pieces of the classical and modern music. Talented works of distinguished modern composers have been marvelously interpreted by the conductor, so it is no mere chance that Shakh is held in esteem.
He worked on staging and directing such works as: "The Tsar's Bride" by Rimsky-Korsakov, "Eugene Onegin", "Iolanta" and "The Queen of Spades" by Tchaikovsky, "Cosi fan tutte" and "Le nozze di Figaro" by Mozart, "La Boheme" and "Tosca" by Puccini, the operetta "Viennese Meetings" by Strauss and the operetta "Der Zarewitsch" by Lehár.
Alim Shakh worked with orchestras in Prague (Rudolfinum), Weimar, Paris, Linz (Brucknerhaus), St.Petersburg, London (Royal Albert Hall). Maestro conducted International Symphonic Orchestra in Great Britain, Weimar Chapel Orchestra (Germany), Chamber choir Grand Rapids (USA), Californian opera theatre (USA), Prague Symphony Orchestra, la Orquesta Sinfónica Nacional Costa Rica, Slovak State Philharmonic, Philharmonie de Paris, Moravian Philharmonic Orchestra, the Saint Petersburg Philharmonic Orchestra and many others. In November 2004, Alim Shakh directed the Conservatory Symphony Orchestra who accompanied to Luciano Pavarotti.
Alim Shakh is the author of many noted creative projects: He was the first one who held concerts of International Symphony Orchestra "Let's Make Music". In 2005 he became a co-other of the new trend in arts called Cinemaphonia. The world premiere of Cinemaphonia took place in Royal Albert Hall, London.