24 - 29 January 2021, Olomouc, Czech Republic
Maestro Tomas Netopil & the Moravian Philharmonic Orchestra
Orchestral conducting masterclass
with
Maestro Tomas Netopil

and the
Moravian Philharmonic Orchestra

(full-size professional symphony orchestra)
The 6-day intensive course for conductors offers participants lessons accompanied by two experienced pianists, gives students the opportunity to work with a professional symphony orchestra as well as receiving analysing feedback from the tutor about recorded video. The culmination of the master class is the public final concert which is professionally video/audio recorded.
The masterclass is suitable for advanced conducting students and professional conductors.
Less experienced conductors can take part in the masterclass as Semi-active participants.
The Certificate of participation
will be provided for all Participants who have completed the masterclass for conductors.
There is no age limit for participation.
Program:
Jean Sibelius "Violin Concerto"
- Soloist
Amia Janicki
(violin)
Antonín Dvořák: Symphony No. 7
in D minor.
Hector Berlioz "Roman Carnival"
, Overture
W.A. Mozart: "The Abduction from Serail"
, Overture
Giuseppe Verdi "La Forza del Destino"
Overture
Conductors are expected to purchase and study their scores before the start of this course. It is important that you listen to the pieces and prepare them as much as possible to gain the maximum benefits from the masterclass.
Concert
The concert program will be divided among participants.
The Final concert
will be held on
29th January 2021
in the Reduta Hall, Olomouc
Recording
All sessions with the orchestra will be video recorded and each conductor will receive his/her videos via Internet.
You can use also your own cameras for video recording.
Video recording of orchestra rehearsals and the concert is included in the price.
We can provide you also with a multi-angle recording of the concert upon your request. It is an additional service with an extra charge.
Language
The masterclass/course will be taught in
English
.
MAESTRO TOMAS NETOPIL
www.tomasnetopil.com
Reviews - Tomas Netopil
Tomas Netopil began his conducting career in 2002 by winning the First Prize of 1st Sir Georg Solti International Conductors' Competition at the Alte Opra Frankfurt, Germany.
During almost 20 years he conducted the best European orchestras and appeared in some of the most prestigious international theatres: Berliner Philharmoniker, Gewandhaus Orchester Leipzig, Dresdner Staatskapelle, Sinfonieorchester des Bayerischen Rundfunks, RSB Berlin, Konzerthausorchester Berlin, London Philharmonic, Philharmonia Orchestra London, BBC Philharmonic Orchestra, Tonhalle Orchester Zürich, Rotterdams Philharmonisch Orkest, Orchestra Filarmonica della Scala, Orchestra Nazionale della RAI Torino, Royal Stockholm Philharmonic, Oslo Philharmonic, Israel Philharmonic Orchestra, NHK Symphony Orchestra (Tokyo), Dallas Symphony Orchestra, Deutsche Oper Berlin, Bayerische Staatsoper München, Operá National de Paris, De Nederlandse Opera, Teatro La Fenice Venezia, Teatro Regio Torino, Salzburger Festspiele, Zurich Opera.

He regularly performs at the Vienna State Opera and at the Vlaamse Opera, is a Guest Conductor with the Orchestre de Paris and the Orchestre Philharmonique de Monte Carlo.

From 2008 to 2012 Tomas Netopil held a position of Music Director of the Prague National Theatre and Estates Theatre.

Since 2013 Maestro is serving as Music Director of the Aalto Theatre and Philharmonie Essen (Germany), recording for Supraphon and appearing in international music festivals.

He is Principal Guest Conductor of the Czech Philharmonic since 2018.

Tomas Netopil greadly shares his experiences with young conductors, he generously agreed to lead our masterclass.

Soloist

Amia Janicki (violin)

Born in 1997 in Switzerland, Amia Janicki starts the violin at the age of three with Patricia Gianetti. From 2010 to 2017 she was a student of Tedi Papavrami in Geneva. She is currently pursuing her studies in Vienna at the Musik und Privatuniversitat der Stadt Wien in the class of Pavel Vernikov.

Amia is a prizewinner of national and international competitions such as the International Competition Leonid Kogan, Musica Juventutis, Jeunesses Musicales Competition, Orpheus International Chamber Music Competition and more. Throughout the years she has had the opportunity to be taught by great musicians such as Shmuel Ashkenasi, Thomas Brandis, Svetlin Roussev or Donald Weilerstein. Amia participated to the Verbier Junior Orchestra in 2014 under the direction of Daniel Harding.
She was a member of the Aurora Piano Quartet from 2015 to 2019. Since 2018 the ensemble is the first piano quartet in residence at the Queen Elisabeth Music Chapel in Belgium where they study with Miguel Da Silva and the Artemis Quartet.

Amia Janicki has played with renowned musicians such as Miguel Da Silva, Francois Frederic Guy, Jean Marc Phillips Varjabedian or Tedi Papavrami.

Amia plays on a Niccolo Amati 1645 on loan from the Maggini Foundation with the generous support of LS Core.
Masterclass fees
Active participant's fee is € 1800.
(Please, write to the Masterclass manager for more options)
Each Active participant will be entitled to:
•
90 minutes
of podium time conducting
the Moravian Philharmonic Orchestra

• analysis of video recorded rehearsals;
•
60 minutes
of podium time in four hand piano sessions
• each Active participant will conduct a dress rehearsal and
the final concert
• attending all meetings, classes and rehearsals
Semi-active participant's fee is € 550.
Each Semi-active participant will be entitled to:
•
90 minutes
of podium time in four hand piano sessions
• attending all meetings, classes, rehearsals and the final concert, without an opportunity to conduct the orchestra
Daily Visitors'
(passive participation) fee is
€ 35
There is no registration/application fee.
Payment schedule
- 25 % of the participant's fee has to be paid as a deposit via bank transfer two weeks at the latest after the organizers` confirmation of your participation;
- the rest of the fee has to be paid via bank transfer 30 days before the masterclass starts at the latest.
The masterclass fee is 100 % refundable only in case of cancellation or postponing of the masterclass by the organizer.
In case of your cancellation, 25% of the masterclass fee will be charged.
For an individual payment plan please
contact the Course Manager


COVID-19
The COVID-test is required for this masterclass.
Rules for entering the Czech Republic are defined by the Health Ministry Protective Measure that has been approved by the Minister of Health with an effect from October 5th, 2020.
Notification of the Ministry of Health issuing a list of countries, or their parts, with a low risk of COVID-19 contagion:
Andorra, Australia, Austria, Belgium, Bulgaria, Denmark, Estonia, Finland, France, Croatia, Cyprus, Canada, Ireland, Iceland, Italy, Japan, South Korea, Liechtenstein, Lithuania, Latvia, Luxembourg, Hungary, Malta, Monaco, Germany, Greece, the Netherlands, Norway, New Zealand, Poland, Portugal, San Marino, Romania, Slovenia, Slovakia, Sweden, Switzerland, Thailand, Tunisia, Vatican, the United Kingdom, the Balearic Islands, the Canary Islands (Spanish Kingdom).
Please, follow
the page of Ministry of Interior of the Czech Republic

to get more more information.
Location
The course will take place in
Olomouc

, Czech Republic. The town is located between Prague and Vienna.
Click here to see more about Olomouc.


| | | |
| --- | --- | --- |
| | | Historical place: the famous composer and conductor Gustav Mahler worked at the German Public Theater (now the Moravian Theatre in Olomouc) |
Accommodation
Accommodation costs must be covered by each participant of the course.
Please, contact course Manager to find accommodation.

Transportation
Travel costs must be covered by each participant.
Getting from Prague to Olomouc by Train
2½h, hourly IC/EC trains; 2h, SC Pendolino every two hours.
Fast trains (category R) are useless at this route, they're slower and cost the same as IC/EC.
Regular fare is € 12, second person in a group (of 2 or more) pays € 8, extra people pay € 7, SporoTiket is € 8.
Link:
https://jizdnirady.idnes.cz/vlakyautobusymhdvse/spojeni/?f=Prague&t=Olomouc&fc=1&tc=1&lng=E&submit=true

Don't hesitate to contact us, and we will help you to manage your trip.
There are several airports around
Olomouc

: in
Prague, Vienna
, Brno and Ostrava.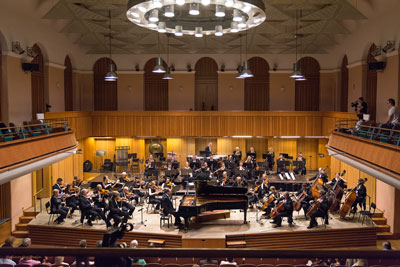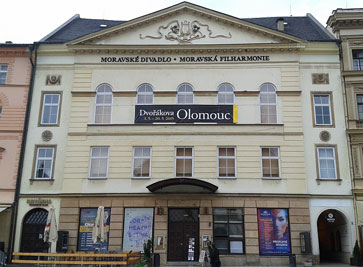 Masterclasses for conductors with a full-size orchestra.
Conducting Programs
include Opera & Orchestral
Conducting masterclasses and workshops
,
Masterclass
venues & locations: Prague, Olomouc, Marienbad, Karlovy Vary.