Brahms, Rachmaninoff, Rossini and Liszt with
Maestro Alim Shakh & MFO
26th June - 1st July 2022, Olomouc, Czech Republic.
Orchestral conducting masterclass with
Maestro Alim Shakh

and
the Moravian Philharmonic Orchestra (MFO)

(www.mfo.cz).
The main aim of the masterclass for conductors: using the main conducting principles to develop your conducting scale in various styles and research the individual way to music expression.
Besides individual lessons with pianists and soloists, you will work with a big professional orchestra, it will give you huge emotional satisfaction and the new impulse to continue your professional career.
There is no age limit for participation.
The masterclass is suitable for advanced conducting students and professional conductors.
Less experienced conductors can take part in the masterclass as Semi-active participants.
Program:
J. Brahms: Symphony No. 4 e-moll
S. Rachmaninoff: Piano Concerto No. 2 c-moll
G. Rossini: Il barbiere di Siviglia - Overture, E dur
F. Liszt: Les Préludes (Symphonic poem No. 3)

Each Active participant will be entitled to:
•
A minimum of 90 minutes
of podium time conducting
the Moravian Philharmonic Orchestra

•
60 minutes
of podium time in four hand piano sessions
• attending all meetings, classes and rehearsals
• each Active participant is expected to conduct a Dress rehearsal and
the Final concert
Each Semi-active participant will be entitled to:
•
90 minutes
of podium time in four hand piano sessions
• attending all meetings, classes, rehearsals and the final concert, without an opportunity to conduct the orchestra
Qualified candidates will be selected gradually until the application deadline, early applying candidates have more chances to participate in the masterclass.


Photos from master classes with the Moravian Philharmonic Orchestra

Maestro Alim Shakh

Prague based conductor Alim Shakh

was taught by famous conductors and teachers - Fyodor Kozlov (1927-2003) and Ilya Musin (1904-1999). Alim Shakh is the last of Prof. Musin's students, who gets knowledge from first hands.

His outstanding conducting technique lets the Maestro conduct the most difficult pieces of classical and modern music. Talented works of distinguished modern composers have been marvelously interpreted by the conductor, so it is no mere chance that Shakh is held in esteem. His artistic career is mainly associated with professional orchestras, since 2008 the Maestro has been living in Prague and successfully combines international artistic and pedagogical activities. Maestro Shakh collaborates with leading orchestras in the Czech Republic and aboard. He has worked with orchestras in Prague (Rudolfinum), Weimar, Paris, Linz (Brucknerhaus), London (Royal Albert Hall), St.Petersburg.

Maestro conducted the International Symphonic Orchestra in Great Britain, Weimar Chapel Orchestra (Germany), Chamber choir Grand Rapids (USA), Californian opera theatre (USA), Prague Symphony Orchestra, la Orquesta Sinfónica Nacional Costa Rica, Slovak State Philharmonic, Philharmonie de Paris, Moravian Philharmonic Orchestra (Czech Republic), Saint Petersburg Philharmonic Orchestra, Bruckner Orchester Linz (Austria) and many others.

Read more.

Soloist Eugène Carmona - piano

Eugene Carmona

is a versatile Conductor and Pianist. Born in Kiev (Ukraine), he began his musical studies at the age of 10 in Paris. A few years later, he won a prize at the Steinway Piano Competition for young pianist. He continued his studies with eminent teacher such as Claudio Chaiquin and Igor Lazko in the Conservatory in Paris. In 2011, He worked as well with Gabriel Tacchino, student of Poulenc, and Abdel Rahman el Bacha, winner of Queen Elisabeth Competition.

He pursued his studies in Lausanne, Switzerland, with Pascal Godart, with whom he obtained a Bachelor and a Master degree in Lausanne Conservatory.

In 2014, he began a carrier in Conducting which lead him to conduct diverse ensemble in Europe, including France, Switzerland, Russia and Czech Republic.

He is the holder of the 2019 Wagner Award as pianist and conductor given by the Wagner Circle in Geneva. As his passion for the opera and the discovery of new repertories, he recently orchestrated and created the chamber opera Il Conte di Marsico, by G.Balducci. The year 2019 mark the creation of his School of Music in Switzerland: Arca Musica.
Concert
The concert program will be divided among participants.
The Final concert
will be held on
1st July, 2022
at 19:00 in the Reduta Hall, Olomouc.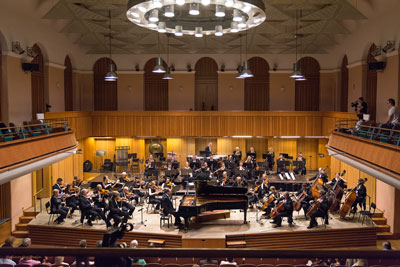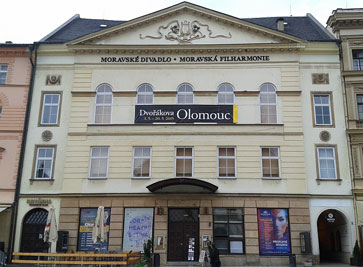 Location
The course will take place in
Olomouc

, Czech Republic. The town is located between Prague and Vienna.
Click here to see more about Olomouc.


| | | |
| --- | --- | --- |
| | | Historical place: the famous composer and conductor Gustav Mahler worked at the German Public Theater (now the Moravian Theatre in Olomouc) |
Accommodation
Accommodation costs must be covered by each participant of the masterclass for conductors.
We offer you single accommodation in Comfort double rooms at
the FLORA hotel ***
with the price of 1100 CZK per night (about 38 EUR)
Feel free to stay in any other hotel.

Photos from master classes with the Moravian Philharmonic Orchestra

Transportation
Travel costs must be covered by each participant.
Getting from Prague to Olomouc by Train
2½h, hourly IC/EC trains; 2h, SC Pendolino every two hours.
Fast trains (category R) are useless at this route, they're slower and cost the same as IC/EC.
Regular fare is € 12, second person in a group (of 2 or more) pays € 8, extra people pay € 7, SporoTiket is € 8.
Link:
https://jizdnirady.idnes.cz/vlakyautobusymhdvse/spojeni/?f=Prague&t=Olomouc&fc=1&tc=1&lng=E&submit=true

Don't hesitate to contact us, and we will help you to manage your trip.
There are several airports around
Olomouc

: in
Prague, Vienna
, Brno and Ostrava.
Language
The masterclass will be taught in
English
.
Maestro Alim Shakh can speak also German and Italian.
Recording
Video recording of all orchestra rehearsals and the concert with one camera is
included in the price
.
All conductors will receive his/her videos via Internet. Wish you get copied video directly at the masterclass, please bring your memory card or flash stick..
You can use your own devices for recording rehearsals with pianists.
The multi-angle recording of the concert is possible with an additional cost.
Masterclass fees
Please
email the Masterclass manager
regarding Active participant's fee.
Semi-active
participant's fee is
€ 600
Daily Visitors'
(passive participation) fee is
€ 35
There is no registration/application fee.
Payment schedule
- 25 % of the participant's fee has to be paid as a deposit via bank transfer two weeks at the latest after the organizers` confirmation of your participation;
- the rest of the fee has to be paid via bank transfer 30 days before the masterclass starts at the latest.
The deposit is 100% refundable only in case of cancellation or postponing of the masterclass by the organizer.
For an individual payment plan please
contact the Masterclass manager.
The Certificate of participation will be provided for all Participants who have completed the masterclass for conductors.

Masterclasses for conductors with a full-size orchestra.
Conducting Programs
include Opera & Orchestral
Conducting masterclasses and workshops
,
Masterclass
venues & locations: Prague, Olomouc, Pardubice, Marienbad, Karlovy Vary.