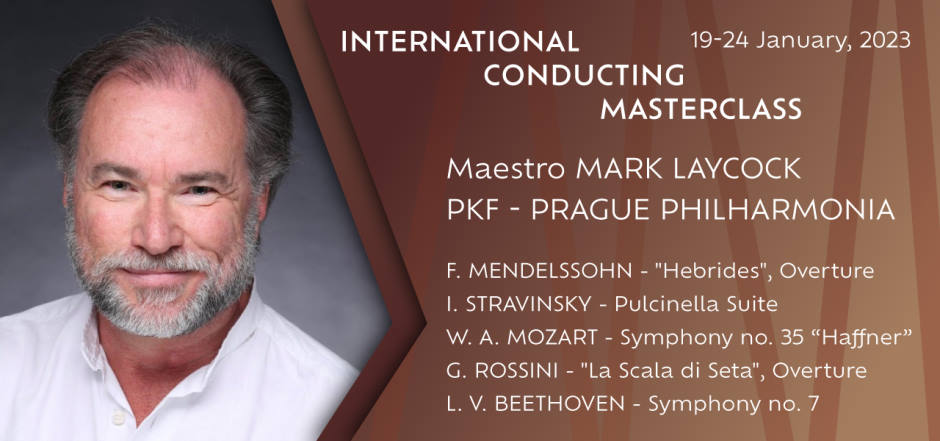 Maestro Mark Laycock & PKF - Prague Philharmonia
19 -24 January 2023, Prague, Czech Republic.
Orchestral conducting masterclass with
Maestro Mark Laycock

and
PKF - Prague Philharmonia

(www.pkf.cz).
6 -day intensive masterclass for conductors with the top Czech orchestra.
The masterclass is suitable for advanced conducting students and professional conductors.
Less experienced conductors can take part in the masterclass as Semi-active participants.
There is no age limit for participation.
Photos from previous masterclasses with PKF - Prague Philharmonia:
MC November 2021

MC January 2022

Calculate the approximate cost of your participation in the course:
Video recording: Free
2h video analyzing session: Free
Program
Igor Stravinsky - Pulcinella Suite
Ludwig van Beethoven - Symphony no. 7
Wolfgang Amadeus Mozart - Symphony no. 35 "Haffner"
Felix Mendelssohn - "Hebrides", Overture
Gioachino Rossini - "La Scala di Seta", Overture
Conductors are expected to purchase and study their scores before the start of the masterclass. It is important that you listen to the pieces and prepare them as much as possible to gain the maximum benefits from the masterclass.

Concert
The concert program will be divided among participants.
The Final concert
will be held on
24 January, 2023
at
19:00
. Prague Concert Hall.
Each Active participant will be entitled to:
•
90 minutes
podium time conducting
PKF - Prague Philharmonia

•
60 minutes
of podium time in four hand piano sessions with the soloist
• each Active participant will conduct a Dress rehearsal and
the Final concert
• attending video analysis session, all classes and rehearsals
Each Semi-active participant will be entitled to:
•
90 minutes
of podium time in four hand piano sessions
• attending all meetings, classes, rehearsals and the final concert, without an opportunity to conduct the orchestra
There is no age limit for participation.
The Certificate of participation will be provided for all Participants who have completed the masterclass for conductors.
Masterclass fees
Please
email the Masterclass manager
regarding Active participant's fee.
Semi-active
participant's fee is
€ 600
Daily Visitors'
(passive participation) fee is
€ 40
There is no registration/application fee.
Payment schedule
- 25 % of the participant's fee has to be paid as a deposit via bank transfer two weeks at the latest after the organizers` confirmation of your participation;
- the rest of the fee has to be paid via bank transfer 30 days before the masterclass starts at the latest.
For an individual payment plan or more options, please
contact the Course Manager


Schedule, 19 - 24 January 2023:
Thursday, January 19,
9.30 – 19:30 - four-hand piano session
Friday, January 20
9:30 – 12:30 - rehearsals with the orchestra
13:45 – 16:00 - rehearsals with the orchestra
Saturday, January 21
9.30 – 13.30 – rehearsal with the orchestra
14.30 -19.30 - four-hand piano session
Sunday, January 22
9.30 – 13.30 – rehearsal with the orchestra
Monday, January 23
9.30 – 13.30 – rehearsal with the orchestra
14.30 -16.30 – analysis of video recordings
Tuesday, January 24
10.00 - Dress rehearsal
19.00 – Final concert
Language
The masterclass will be taught in
English
.
Maestro Mark Laycock can also speak German.
Recording
Video recording of all orchestra rehearsals and the concert with one camera is
included in the price
.
All conductors will receive his/her videos via Internet. Wish you get copied video directly at the masterclass, please bring your memory card or flash stick..
You can use your own devices for recording rehearsals with pianists.
Venue & Accommodation
The course will take place
in Prague
, KD Ladvi - the base of the PKF - Prague Philharmonia.
Address: Burešova 1661/2, 182 00 Praha 8 - Kobylisy, the Czech Republic. Metro - line "C"
Travel and accommodation costs are not included in the masterclass fee, must be covered by each participant.
Maestro Mark Laycock

Mark Laycock

made his conducting début at age 21 with the Philadelphia Orchestra, returning to the podium of that great orchestra on several occasions over the ensuing years. He has conducted more than 2,000 works with a wide array of orchestras and opera companies in Europe and Asia, as well as in Israel, North America, Central and South America, with orchestras of London, Paris, Berlin, Zurich, Moscow, Kiev, Montréal, Mexico City, Seoul, and Taipei, among others.

Mark Laycock was Music Director of the Princeton Symphony Orchestra for more than 20 years, transforming that orchestra from a small chamber orchestra into a full and critically acclaimed professional symphony orchestra awarded Citations of Excellence for two consecutive years from the State Arts Council of New Jersey for "exhibiting the highest standards of artistic excellence." He was also Associate Conductor of the New Jersey Symphony Orchestra from 2000-2003. Over the years he has developed a reputation for stepping in on short notice to conduct without rehearsal, including performances of Ein Heldenleben, Carmina Burana, Brahms Symphonies from memory, and complete productions of "Salome" and "Carmen", all to great acclaim.

Read more.
ORCHESTRA
PKF - Prague Philharmonia
was founded in 1994 on the initiative of the conductor Jiří Bělohlávek (1946-2017), today is one of the best Czech professional orchestras and the most recognised orchestra among world ensembles. Freshness, energy and perfectionism are characteristics inscribed in the orchestra's 'Birth Certificate', as well as a love of music expressed in each of their concerts. Behind the highly valued distinctive sound of the PKF — Prague Philharmonia is partly its key repertoire, which has been from the beginning Viennese Classicism, namely compositions by Joseph Haydn, Wolfgang Amadeus Mozart and Ludwig van Beethoven, to which works from the period of Romanticism, as well the 20th and 21st centuries, are added.
Over the period of its existence, the orchestra has recorded over 90 CDs released by leading Czech and world music publishers, such as Deutsche Grammophon, Decca, Supraphon, EMI, Warner Classics and Harmonia Mundi. A number of them have been awarded prizes, such as the Gold Record RAC Canada in 2000, Harmony Award in 2001 and Diapason d'Or in September 2007. The CD Heroique with Bryan Hymel was in 2016 nominated for an International Opera Award and a recording of Bohemian Rhapsody with the trumpet player Gábor Boldoczki for Sony Classical was nominated at the Classical Music Award 2018.
The PKF — Prague Philharmonia has collaborated on recordings with Anna Netrebko, Magdalena Kožená, Bryan Hymel, Isabelle Faust, Eva Urbanová, Andrew von Oeyen, Jean-Guihen Queyras, Iva Bittová and Dagmar Pecková. Among the critically acclaimed CDs stands out the live recording of Smetana's Má vlast (My Country) from the Prague Spring Festival in 2010, conducted by Jakub Hrůša...
You can read more about the orchestra
here
. Website of Prague Philharmonia is www.pkf.cz
Masterclasses for conductors with a full-size orchestra.
Conducting Programs
include Opera & Orchestral
Conducting masterclasses and workshops
,
Masterclass
venues & locations: Prague, Olomouc, Pardubice, Marienbad, Karlovy Vary.