21-26 January 2018,

Orchestral Conducting Masterclass.




Olomouc

,

Czech Republic


Maestro Alim Shakh & the Moravian Philharmonic Orchestra
6-day
orchestral conducting masterclass
with
Maestro Alim Shakh
and the
Moravian Philharmonic Orchestra
Maestro Shakh

was taught by famous Russian conductors and teachers - Fyodor Kozlov (1927–2003) and Ilya Musin (1904–1999), he maintains and spreads traditions of St. Petersburg Rimsky-Korsakov State Conservatory. Maestro Shakh is the Principal conductor of St. Petersburg State Conservatory Opera and Ballet Theatre, Principal conductor of the Novosibirsk Philharmonic Chamber Orchestra.

The main aim of the masterclass for conductors: using the main conducting principles to develop your conducting scale in various styles and research the individual way to music expression.
Besides individual lessons with pianists you will work with a big professional orchestra, it will give you big emotional satisfaction and the new impulse to continue your professional career.
The masterclass is suitable for advanced conducting students and professional conductors.
Less experienced conductors can take part in the masterclass as Semi-active participants.
There is no age limit for participation.
Each Active participant will be entitled to:
•
100 minutes
of podium time conducting
the Moravian Philharmonic Orchestra
•
60 minutes
of podium time in four hand piano sessions
• each Active participant will conduct a Dress rehearsal and
the Final concert
• attending all meetings, classes and rehearsals
Each Semi-active participant will be entitled to:
•
90 minutes
of podium time in four hand piano sessions
• attending all meetings, classes, rehearsals and the final concert, without an opportunity to conduct the orchestra
Program:

J. Brahms:
The Tragic Overture

P. I. Tchaikovsky:
Symphony No. 5

D. Shostakovich:
Symphony No. 1

W.A. Mozart:
Symphony No. 41
Participants are required to select and prepare 2-3 music works from this repertoire. Conductors are expected to purchase and study their scores before the start of the masterclass for conductors. It is important that you listen to the pieces and prepare them as much as possible to gain the maximum benefits from the masterclass.

Concert
The concert program will be divided among participants.
The Final concert
will be held
26 January 2018
in the Reduta Hall, Olomouc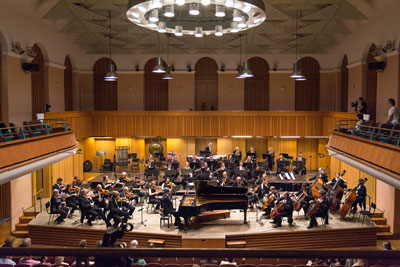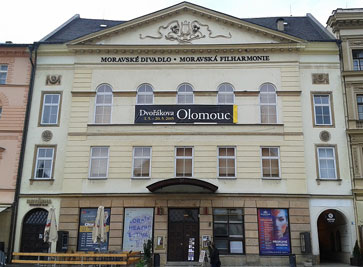 Language
The masterclass will be taught in
English
.
Nevertheless, Maestro Shakh can speak also German and Russian.
We will make our best effort to provide a language support if you don't speak these languages.
Please make a note in your application if you need that support.
Accommodation
Accommodation costs must be covered by each participant of the masterclass for conductors.
We offer you an accommodation in
the FLORA hotel ***
.
The hotel has different categories of rooms: Economy, Standart, Comfort, Comfort Plus and Superior.
Nevertheless, you can stay in any other hotel.
Please, contact Masterclass Manager to find cheaper accommodation.

Transportation
Travel costs must be covered by each participant.
There are several airports around
Olomouc
: in
Prague, Vienna
, Brno and Ostrava.
Recording
All sessions with the orchestra will be video recorded and each conductor will receive his/her videos on USB stick or via Internet.
You can use also your own cameras for video recording.
Video recording of orchestra rehearsals and the concert is included in the price.
The concert will be recorded with one professional camera, HD sound quality.
We can provide also a multi-angle recording of the concert upon your request with additional cost.
Masterclass fees
Active participant's fee is € 1650.
Semi-active participant's fee is € 500
Daily Visitors' (passive participation) fee is € 35
There is no registration/application fee.
Payment schedule
- 25 per cent of the participant's fee has to be paid as a deposit via bank transfer two weeks at the latest after the organizers` confirmation of your participation;
- The rest of the deposit has to be paid via bank transfer by
1 January 2018
or in cash on the day of your arrival;
- 100% deposit should be paid until the 1st day of the masterclass for conductors.
The deposit is 100% refundable only in case of cancellation of the masterclass by the organizer.
For an individual payment sсhedule please
contact the Masterclass manager.
The Certificate of participation will be provided for all Participants who have completed the masterclass for conductors.

Masterclasses for conductors with a full-size orchestra.
Conducting Programs
include Opera & Orchestral
Conducting masterclasses and workshops
,
Masterclass
venues & locations: Prague, Olomouc, Marienbad, Karlovy Vary.