Summer Conducting Masterclass with Maestro Lior Shambadal.
22- 26 August 2016. Karlovy Vary
5-day orchestral conducting masterclass with Maestro Lior Shambadal

and Karlovy Vary Symphony Orchestra.

Maestro Lior Shambadal is the Principal conductor of the Berliner Symphoniker (since 1997), he was the principal conductor of the RTV Slovenia Symphony Orchestra, the principal conductor of the Haifa Symphony Orchestra, has held a position of the principal conductor of the Orquesta Filarmónica de Bogotá in Columbia. His extensive concert activity links him with orchestras across the world, from Latin America to Russia, from Israel to Europa. Maestro gives master classes for conductors in Canada, Italy, Berlin and other states, in which the participants learn critical aspects of conducting, studying the score, musical analysis and conducting technique.
The masterclass training program includes sessions with piano four hands, rehearsals and the concert with Karlovy Vary Symphony Orchestra.
The masterclass is suitable for advanced conducting students and professional conductors.
Each Active participant will get:
- 90 minutes of podium time with the big professional orchestra
- 80 minutes of podium time in sessions with piano four hands
- attending all meetings and rehearsals
- each Active participant will conduct a Dress rehearsal and the Final concert
Application Deadline extended.
9 Active Participants will be accepted to the course.
Program:
J. Brahms, Symphony № 1 in C minor, Op. 68,
P. I. Tchaikovsky, Symphony №. 6 in B minor, "Pathétique", Op. 74,
F. Mendelssohn, "A Midsummer Night's Dream", Op. 61
Conductors are expected to purchase and study their scores before the start of the course.
It is important that you listen to the pieces and prepare them as much as possible to gain the maximum benefits from the course.
Dates and the structure of the masterclass August 22 - 26th, 2016
August 22, - 18.00 - opening of the masterclass, individual lessons with piano four hands

August 23, - morning - orchestra rehearsal
- afternoon - individual lessons with piano
August 24, - morning - orchestra rehearsal
- afternoon - individual lessons with piano
August 25, - morning - orchestra rehearsal
- afternoon - orchestra rehearsal
August 26, - morning - Dress rehearsal
19.30 - Final public concert
All participants will receive a definitive schedule after a deadline.
Concert
The Final concert will be held 26th August in the Antonin Dvorak Concert Hall in Karlovy Vary, Windsor Carlsbad - Lázně III, Mlýnské nábřeží 5.
The concert program will be divided among participants.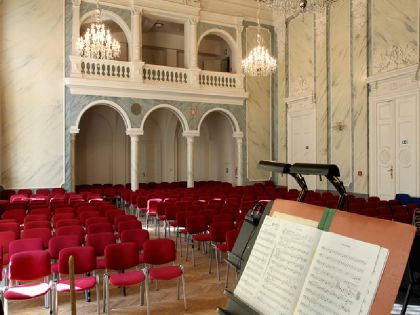 Language
The course will be taught in English.
Maestro Lior Shambadal can speak several languages.
Recording
All sessions with the orchestra will be video recorded and each participant will receive his/her video on USB stick.
Video recording of rehearsals with the orchestra and the concert is included in the price.
You can also use your own camera for video recording.
Accommodation
Karlovy Vary ( Link: https://www.karlovyvary.cz/en ) is a worldwide known recreation spa area with a large accommodation capacity. Karlovy Vary is historically famous for its hot springs (13 main springs, about 300 smaller springs, and the warm-water Teplá River), it is the most visited spa town in the Czech Republic.

We offer the accommodation in the hotel Kriváň*** with a special price for masterclass participants - € 20 per person per night.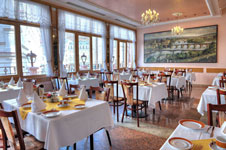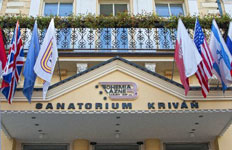 Participants are responsible for the arrangement of their accommodation, therefore they can choose whichever hotel they like.
Transport. The nearest airport is located in Prague.
Karlovy Vary situated in western Bohemia, approximately 130 km (81 mi) west of Prague.
Getting from Prague to Karlovy Vary by bus:
( Timetables Link: https://jizdenky.studentagency.cz/Timetable?4&id=2740722012

)
Bus stop: Prague, Vaclav Havel Airport Prague ===> Bus stop: Karlovy Vary, Terminál
The bus leaves approximately every hour and includes services such as free coffee and newspapers, and you always get comfortable seats.
You can use also Private transfer (car, minivan).
Please, contact the Masterclass Manager for full travel information: conductingmasterclasses.eu@gmail.com